Skip Navigation
Website Accessibility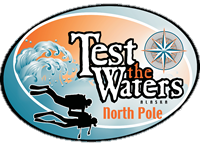 TEST THE WATERS HAS ALWAYS PUT SAFETY FIRST
SPECIAL CONSIDERATIONS GIVEN COVID 19:
Please enter the shop through the Arctic Entry, there you will find chairs and tables spaced 6-10 feet apart ensuring your, and our staffs, health and safety.
If you question your health, please feel free to phone us for service and to arrange special pick up and delivery options if you are dropping off equipment for service or return or vise versa.
The shop will be sterilized at opening and closing and any surfaces you come in contact with will also be sanitized prior to your arrival and after your departure.
SCUBA training is still happening!! We are at Hamme Pool every Tuesday and Thursday Evening and open water once or twice a month!
Now is the time for your elearning and equipment selection and service!! Dust off your SCUBA knowledge with an online course...many are discounted during this exceptional time in our history.
Thank you!!! For your patience and support in this historic time!
Remember, always breathe and be kind!